Over the Holidays, my friend Nina (@ninasvanity) did my makeup for a holiday party and I was super obsessed with the look she created! Nina is a very talented makeup artist (check out her page!) and is one of the most glamorous people I know. I love love love how she did my eyeshadow, there's no way I could have came up with this look on my own! I really wanted to try out my Charlotte Tilbury Instant Eye Palette and this was the perfect opportunity!
Even though I wore this look to a holiday party, I definitely think that it's okay to wear day to day. It's just a subtle neutral smoky eye (pretty conservative in my opinion) and the Charlotte Tilbury Instant Eye Palette we used is actually designed for "Day", "Desk", "Date" or "Disco" looks – so really, it's perfect for any occasion year round!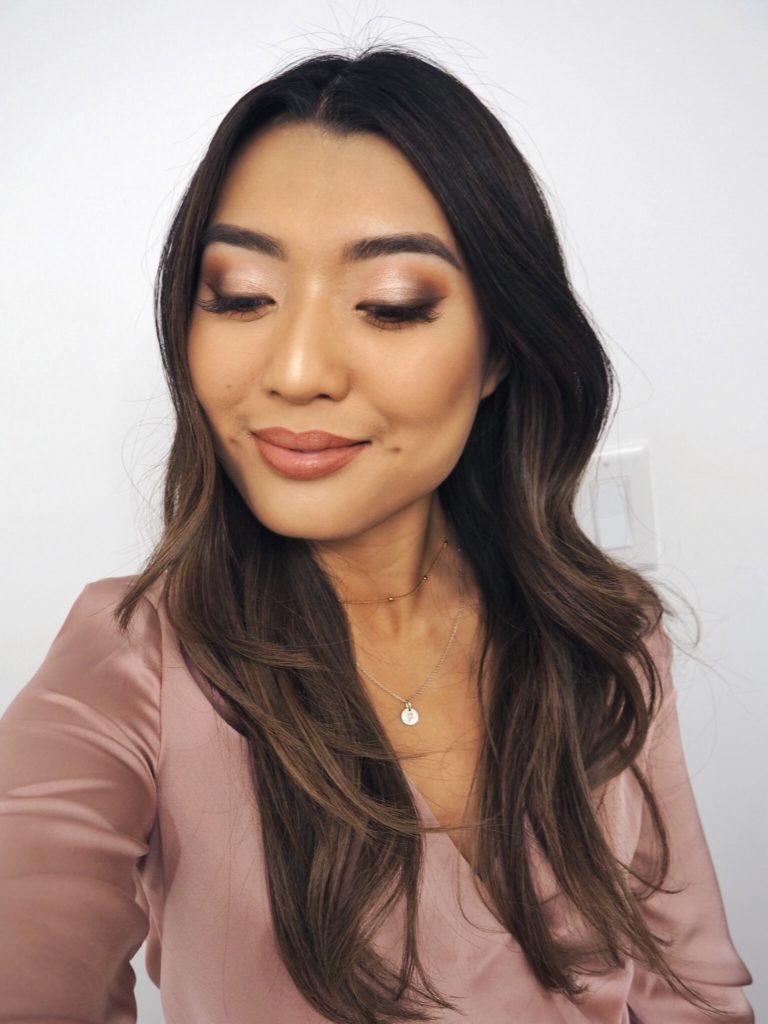 Here is what she did and used:
1. Urban Decay Rehab Makeup Prep: to prime my face.
2. Mac Studio Fix Concealer: to prime my eyelids.
3. Charlotte Tilbury Instant Eye Palette: blend these colours together all over eyelids –
"Prime" from "Day Eye", "Enhance" and "Smoke" from "Desk Eye", "Smoke" from "Date Eye", and "Smoke" from "Disco Eye". I know it's a lot… but I swear it will look great!
4. Charlotte Tilbury Instant Eye Palette: use "Prime" from "Desk Eye" as the transition shade on your crease.
5. Charlotte Tilbury Instant Eye Palette: mix "Smoke" from "Desk", "Date" and "Disco" eye and apply on your outer V corners.
6. Giorgio Armani Luminous Silk Foundation (I use shade #6): Apply with a beauty blender.
7. Anastasia Beverly Hills DIPBROW Pomade: in medium brown for brows, apply with their brush #14.
8. L'Oréal Lash Paradise Mascara: applied on my bottom lashes (I have eyelash extensions from Prep Beauty Parlour so I didn't need mascara on my top lashes.
9. Gerard Cosmetics Lip Liner in Nude: to line my lips.
10. MAC Cosmetic Lady Gaga Lipstick: the colour is no longer available, but MAC has a similar colour here.
11. Charlotte Tilbury 'Filmstar Bronze & Glow' Face Sculpt & Highlight Palette: as bronzer and to contour my face.
12. Becca Cosmetics Shimmering Skin Perfector Pressed Highlighter: used colour "Champagne Pop" for highlighting my face.
13. MAC Cosmetics Fix+ Spray and Urban Decay All Nighter Setting Spray: to help my makeup stay in place!
What do you guys think? Should I wear this look more often? Let me know if you want to see more looks created using the Charlotte Tilbury Instant Eye Palette
Shop the products I used: